How do you make your trade show booth stand out? And by this, I don't just mean visually, but in a substantive way that tells people your brand is worth their time and business?
Recently, Marc Emmer at Forbes posted an article entitled "The Five Elements Of Unique Brands." While the piece isn't specifically focused on trade show booths but on branding in general, he makes an all-too-true observation very early on …
"The more crowded the market, the harder it is to create uniqueness. Companies often operate as if a spell has been cast over them. They build almost identical trade-show booths staffed with salespeople who wear the same clothes and use the same language and selling tactics. What we often see in brands is not differentiation, but imitation."
From there, Emmer goes on to discuss the five elements required to create brands and products that are distinct and relevant.
Inspired by his list, I decided to use it as a stepping stone to discuss how you can do the same with your trade show booth and live event experiences.
1) Clarity
With any kind of marketing, it's important to remember that you can't target everybody. Who is your ideal client? Who is the best audience for your product or service? If the live event or trade show you're attending isn't where you're most likely to connect with those potential customers, then you may need to rethink the decision.
The same goes if the way you're portraying your business at these shows is designed to appeal to everybody, rather than to the segment most likely to convert. If your target client is Generation X homeowners with children, then don't create a booth experience that appeals to Millennials.
As Emmer puts it, "Narrowing focus gives your brand credibility."
2) Contrast
When creating a booth for a trade show or live event, it's easy to stick with what's worked for others rather than try to break the mold. And while there's certainly value in knowing what the "best practices" are, especially for your industry, it's well established that sameness is a surefire recipe for being ignored.
So what can you do to stand out from the crowd? How can your booth look different, act different, tell a different story, or provoke a different response from the crowd than every other booth at the show? Hiring professional talent is certainly one effective way. Incorporating games and contests is another.
Anything that disrupts the expectations of the audience (within reason) will go a long way toward building attendee interest and making your live event experience a success.
3) Brand Promise
While contrast is important for gaining attention, consistency is the key to building trust with both potential and existing customers. According to Emmer, "Every company must make a promise they can fulfill consistently."
Translated, this means that whatever experience you offer at a live event or trade show, it should match the one somebody has when they visit your website, your social media pages, and even the last show you had a booth at.
It also means nobody should ever be confused about what it is your company stands for because it's communicated differently from one marketing channel to the next.
4) Narrative
From a marketing standpoint, the story of your brand is equally if not more important than the features of your product or services. That's why it's so critical for the staff at your live event or trade show appearance (whether it's employees or professional talent) to know it inside and out, so they can tell it to anybody who shows up at your booth.
This story should not only include what you do or make, but also the company's history, information about the founder, and where you do business, as well as your mission statement, core values, and the "why" of your business.
Other companies may do what you do. But nobody else has your unique story. Leverage that to build consumer interest by connecting your story to theirs.
5) Customer Journey
The advantage to live events and trade shows, as opposed to other forms of marketing, particularly digital, is that they create an experience for your target audience that is hard to forget.
Emmer asks, "How will you create customer experiences so awesome that your customers will tell their friends?" Well, it's safe to say that very few people have ever done this because of an email blast, print ad, or even a well-designed web page.
Yet many have probably gone home and told people, "I saw the coolest thing at a trade show booth the other day!" In fact, they've probably even taken a picture of it with their phone and posted it to a social media account. That's the power and potential of experiential marketing—to plant a seed in the mind of a potential customer that continues to grow long after you connect with them.
What are you doing with your trade show booth or live event appearance to plant that seed for your customers?
---

Does your business need help planning for or developing your presence at a live trade show or event? Do you need experienced professional talent at your booth to act as brand ambassadors? Are you ready to take your marketing ROI to the next level?
If so, head to the AdelanteLive.com website and reach out to us for a quote.Re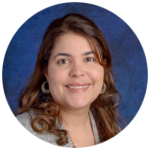 Janice Rodriguez, CEO, has grown Adelante Live, Inc. into a premier experiential marketing and promotional talent company with clients throughout the United States. She can be reached on LinkedIn.