Follow These Simple Tips to Keep Promoting All Winter Long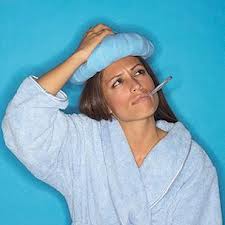 There seems to be no end in sight for this long winter. In order to get through this cold and flu season and still maintain your health, you must take care of yourself. As a brand ambassador who is dealing with the public at every promotion, you're in a prime position to get sick or to get someone else sick. Here are some common sense tips on how to stay healthy so you can keep working as a promotional talent this winter.
Wash Your Hands!
One of the most important and easiest things you can do to stay healthy this cold and flu season is to wash your hands often. Most doctors recommend that you wash your hands with soap and water for at least 20 seconds- which is as long as singing "Happy Birthday' twice.
And if You Can't Wash Your Hands…
If you are working a promotion or event, taking frequent bathroom breaks is probably not going to be an option. So the second best thing is to use hand sanitizer often. There are plenty of travel size
and hand sanitizer spray
that can easily fit in your pocket. Use these (discreetly) in between consumers especially if you are shaking hands and/or handing out samples. Remember whenever you are sampling food (and some beverages), you should always have on gloves on so please change those often as well.
Exercise and Eat Right
It's easy when it's cold outside to overindulge on those creamy soups and other comfort foods that make us feel warm and toasty. Please keep in mind that those comfort foods are often very high in calories and carbohydrates. Make sure you're eating right and get your full serving daily of vegetables and fruits. These vitamin rich foods will also support your immune system. In addition to overeating, this time of year it's easy to pack on extra pounds by general inactivity. The key is to keep up with your normal exercise routine or make adjustments if you can't workout or take walks outside. No matter how cold it is outside, there are plenty of exercises you can do inside your home. Check out these great at-home workout for women and men.
Cough or Sneeze in the Crook of your Elbow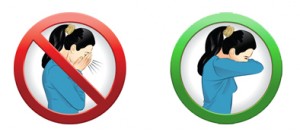 Avoid coughing or sneezing directly in your hands. Please remember you'll be shaking hands with people, touching products and premiums and also potentially samples of food or drinks. When you feel a sneeze coming on, turn away from people and sneeze in your elbow. Also make sure you have tissues readily available and use that hand sanitizer!
Feel the Sniffles Coming On? Rest!
Don't you love it when someone tells you they're feeling sick, then you see photos on Facebook of them partying? If you start to feel that little tickle in your throat – listen to your body. Go to bed. Don't drink alcohol. Stay warm and inside (if you can).  Consider vitamin C or zinc to stave off or lessen the duration of a cold.
Already Sick or Just Got Over a Cold? CLEAN!
If you are sick or have just recovered, make sure you clean the hard surfaces of your house and don't forget to clean your keyboard and cell phone
. Those are items that you constantly touch and often forget to clean. Use an antibacterial all purpose cleaner
to wipe down remotes, knobs, doors and other handles around your house and car. This helps you from spreading it to other family members and from making yourself sick again! Here are additional tips on what to clean during/after an illness.
We know its cold outside but do us and yourself a favor and take care. There are already fewer promos in the winter season (particularly in the colder climates) than in the summer so it's harder for promotional talent to get booked this time of year. Therefore it's really important to stay health so you can jump on those opportunities.   Also use over the counter medicines to combat your symptoms and be very careful before calling out because you are 'sick'. We don't want you to get others sick by any means, but there is a huge difference between needing a cough drop and having the flu.
Happy promoting and stay healthy!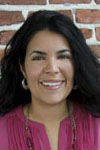 Janice Rodriguez is the President and Agency Director of Adelante Live. Please follow her on Twitter @jvrodrig1029, Facebook or  Google+. You can view her full bio here. She just got over a cold that knocked her out for a week- so she knows what she's talking about (although a little too late).