Shooting photos with a Professional or DIY? You need to make sure you have the right wardrobe!
Clients ask two critical questions prior to selecting a brand ambassador: Do they have the skills for the job and are they suitable for the company which really means do they represent the brand? Making sure your profile photos are perfect is critical to getting booked for these brand ambassador opportunities.
*Remember the wardrobe is a costume. The clothing is meant to make the character i.e. "attractive, real person" convincing. When selecting wardrobe for profile photos, think words like professional and polished.
Let's face it – if someone looks at your photos and comments on the outfit – you have failed.
Your profile photos are designed to sell you – not the clothing or the jewelry, and definitely not the makeup or photographer's creativity.
Here are a few Do's and Don'ts to keep in mind when selecting wardrobe for photos.
Do– Pick Solid colors.
Don't– Pick floral prints or patterns. They can be too distracting.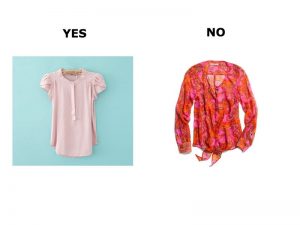 Do– Make sure the clothing fits properly.
Don't– Wear clothing that's so tight that it looks like you might be going out for night on the town.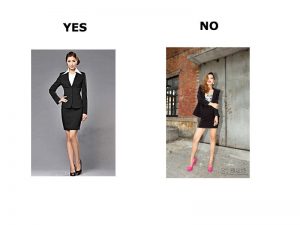 Do – Classy or timeless outfits aka J Crew or Banana Republic
Don't – Trendy or fashion oriented outfits i.e. Forever 21
Do – Have a good mix of colors and styles.
Don't– Have photos of you wearing only one color. Give your agency some selection on what might help sell you better.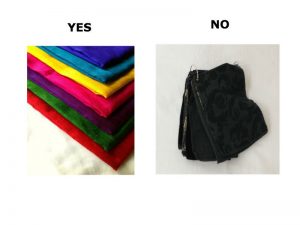 Do– Have nicely groomed nails
Don't– Have  attention-getting jewelry! Less is more.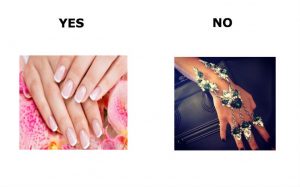 If in doubt, ask your staffing agent what types of photos they are looking for and they will be happy to give you pointers and suggestions. It's typical for talent to have a variety of photos in their talent profile so their agency can book them for different types of clients who may be looking for different talent characteristics. Remember that it's in your agencies' best interest to have great photos of you. It's like the old Vidal Sassoon saying, "If you don't look good, we don't look good."
Lucy Fang started her career in the world of modeling in high school with commercial, print and runway work in Florida. After graduating with a B.A. in communications, she discovered the excitement of promotional modeling and worked with a variety of international brands. With a solid 5 years of promotional selling, she went to work  behind the scenes as a booking agent. It was there where she learned the secrets of why models did or didn't get booked and what agents were really looking for. Moving to Chicago, she continued to model but also focused on using her degree and her experience with social media to help build her clients' presence on the web.