Why you should hire tradeshow talent at your next show or expo.
We know from over 10 years experience that tradeshows require a significant investment of time and money and that professional tradeshow talent can help maximize that investment. For those companies who think that bringing just one extra person from the office to the show is the best use of their resources, we offer the following 6 reasons to consider hiring professional tradeshow talent.
1. Draw Attention and Traffic to Your Booth
Tradeshow hostesses who have a uniform and branded look can be very eye-catching and bring additional traffic to your booth. Although we are moving away from the term "booth babe" we do know that an attractive, outgoing and well-spoken hostess can bring more attention to your booth and therefore more visitors. Wardrobe choices for the talent can also make a big impact and should be integrated with the overall branding and design of the exhibit.
2. Don't Let a Lead Get Away! 
A tradeshow hostess will likely be the first person to interact with an attendee who enters your booth space. They can easily determine, based on their knowledge of your company and specific criteria you have developed regarding leads, what type of client or company representative you consider a "hot lead".  An experienced hostess can then turn over the leads to your sales staff or politely converse and collect information with those who may not be a top priority at that time. This is a valuable function that tradeshow hostesses provide that saves your sales people's time and energy throughout a long tradeshow.
3. Free up your Salespeople to Meet with Clients and Prospects
Another reason you attend a tradeshow is to meet with existing clients, catch up with industry colleagues and hold sales presentations with prospects. Any of these activities may require an off-site meeting but you can't leave your booth unmanned. Experienced tradeshow talent can manage the booth and traffic and make sure there is always a responsible party on site. They can continue to scan badges, collect business cards, and distribute collateral even if many of the sales staff have to leave for any reason.
4. Run Demos and Presentations with Professional Narrators
Have you considered adding a presentation or interactive product demonstration as part of your tradeshow interaction? Although your first thought may be to have your head salesperson make the presentation, please consider an experienced narrator who has acting and ear prompter experience. An experienced narrator's ability to improvise and control the pace of the presentation is key to relating to the much larger audience present at tradeshows. Also, booth hostesses can also act as crowd gatherers and walk out into the show to invite attendees to the next presentation. This will bring a larger audience to the presentation and therefore a bigger crowd to your booth – and that's what you want… traffic!
5. Let Tradeshow Talent Entertain Casual Visitors to Your Booth
Let's face it, there are tradeshow attendees that just go around booth to booth to pick up free stuff. With all the pens and tote bags you can really score big at a tradeshow! Let experienced hostesses greet and mingle with those attendees while your sales team focuses on legitimate leads for your product or service. With just a little extra attention that a tradeshow hostess can provide, all visitors to your booth will feel welcomed and leave with a positive impression of your company .
6. Save Money on Travel for Additional Staff with Locally-Based Talent
Why pay for airfare, hotel, and per diem for a member of your team to come to the show just because you could use an extra "pair of hands" on site? If you need assistance with greeting attendees, scanning badges, and filling brochure bins, it may be more economical to hire an experienced booth hostess to fulfill those duties. Locally-based talent can provide those services plus so much more at a reasonable day or hourly rate that will work within your budget. Hire an experienced tradeshow talent who will be energetic and 100% focused on the success of your show!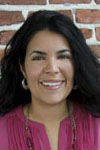 Janice Rodriguez is the President and Agency Director of Adelante Live. Please follow her on Twitter @jvrodrig1029 or on Google+. You can view her full bio here. She's worked over 100 tradeshows as a booth hostess, crowd gatherer, product specialist and narrator. As a talent agent, she has booked hundreds of tradeshow talent for a variety of tradeshows, expos, and conferences.