As our 10th Year in Business Comes to a Close, We Look Back and Say Thank You
This past January, we started the official celebration of our 10th year in business as an experiential marketing agency.  What an amazing journey it has been since we first opened our doors in November of 2004. We so graciously thank our clients, talent and industry colleagues for the trust they have placed in us. They've all played a crucial role in our success. We look back gratefully at all we've accomplished in 2015 and are looking forward to an amazing 2016.
Here are a few highlights of the past year:
Celebrated our 10th successful year in business!
Named to top Tampa Bay Companies  in the Women Owned Businesses and Marketing & Public Relation Firms categories by the Tampa Bay Business Journal.
Continued to develop the A-Live Apex platform and converted multiple clients to our online reporting system.
Based on the success of the A-Live Apex, we invested in creating YourEventCrew.com, an online based talent management platform which can be utilized by event marketing companies to manage and schedule their own event talent.
Provided amazing talent for a variety of roles and projects including beauty demos, sports events, multicultural events, tradeshows and festivals across the USA.
Expanded our expertise in on and off premise spirit, beer and wine demos by providing salesmodels at airport duty free stores, big box retailers and grocery stores, specialty liquor stores and bars and restaurants across the country for a diverse group of well known US and International brands.
Invited to again develop and manage the 3rd execution of the Bright House Networks Hello Friend program. This is a community marketing program where our teams executed "Random Acts of Friendship" to the unsuspecting public across multiple markets. Our team executed such great activities as hosting parties at local children's hospitals and visiting schools to give gifts of appreciation to teachers.
In the spirit of the holidays and in honor of our clients, we contributed a portion of our profits to The Greater Chicago Food Depository and Metropolitan Ministries in Tampa. It's not too late to donate!
Added great

new

companies and brands to the Adelante family!
As we look forward to an exciting 2016, I want to personally say thank you to my fellow Adelante HQ teammates who work so hard throughout the year to deliver amazing client service. To our clients, talent and industry colleagues, I thank you for your support and dedication. We're so grateful to have a successful 10 year track record in this dynamic event marketing industry and we recognize that we couldn't have done it alone.
Best wishes for a happy, safe and successful 2016!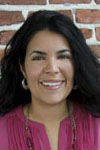 Janice Rodriguez is the President and Agency Director of Adelante Live Inc. and is excited to see what 2016 has in store! Please follow her on Twitter @jvrodrig1029 or on Google+. You can view her full bio here.