Recently one of my LinkedIn Groups had a lively discussion under the thread, "Is it Finally Time to Ban the Booth Babe?". Well that's harsh I thought. For one, I can think of a better name than the derogatory "booth babe".  Booth Hostess, Tradeshow Host, Product Specialist, Narrator, perhaps? All are roles commonly found on the tradeshow floor.  All serve their purpose so why would anyone want to ban them?!
"Babe" of course denotes someone, usually: female, very attractive, and fairly young who has been planted on the tradeshow floor with no knowledge of the industry and whose sole purpose is to attract visitors by being… attractive.  It also infers that being a booth babe requires no particular skill set.  While most clients and visitors would readily agree that a Product Specialist, a person who has been thoroughly trained on a line of products and can answer most prospective customers' questions with a degree of confidence and certitude, are valuable. They, much like a Narrator who can flawlessly deliver a marketing presentation to an audience from memory or an ear prompter, are typically very well compensated.  However some may balk at the high rates a so called "booth babe" also receives.
However the "booth babe" also earns her keep.  She stands all day in in high heels on thinly carpeted concrete tradeshow floor with a smile that rarely ever falters. She deftly and graciously deflects unwanted romantic advances from visitors.  If it is a selling tradeshow floor she democratically passes off qualified prospects to the sales team making sure leads are evenly distributed as not to sow discord among the sales team.  She seamlessly blends in with the full time staff.  If they are gregarious, outgoing and aggressive when pursuing sales lead she follows suit. If they adopt a reserved non-selling tone she adapts accordingly. She is engaging and entertaining, facilitating conversation with potential customers while making sure not to be drawn into too long of a conversation so as not to ignore others who may have a question.  In short "Booth Babes" should not be banned; they should be appreciated.*
*Clearly I am biased as I spent many years on tradeshow floors as a Product Specialist, Narrator and so called "Booth Babe"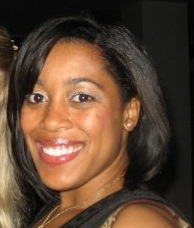 Shalina Rankin, writer, trade show host, event and marketing specialist and owner of 
Baubles At Your Feet
  may be contacted at  
ShalinaPresents@facebook.com
 for opportunities, comments and topic suggestions.