Simple Tips for Managing Your ALI Emails
I know you love us, but I'm also sure you don't want an inbox full of promo opportunity notifications – especially if you live 500 miles from the event location!
Here are a few quick tips on how to manage your ALI emails.
Please add no-reply@adelantelive.com to your address book.
Please add the email address above to your address book and/or add as a safe sender. We don't want the emails you are interested in to go into your spam or junk folder. Please check your junk/spam folder regularly just in case a notification is in there. From the junk folder, depending on your email provider, you can usually mark the sender as 'safe'.
Don't select Kansas City as a metro in your profile if you live in Seattle.
Want more accurate emails? Then only select markets that you can ACTUALLY work in. If you live in Atlanta, you probably aren't interested in promotional opportunities in Los Angeles. If you travel routinely across the United States, you may want to
receive the emails in case you are spending time in another market and want to pick up an ALI promo while you are there.
It's possible that when you first registered, you selected all metros when asked. But if you can't possibly work them all, we don't want to send you unwanted emails.
Please take the following steps to check/modify your metro selections:
1) Please log in to your A-Live Agenda profile at www.adelantelive.com
2) At the top of your A-Live Agenda home page, click the tab Personal OR click the Gear icon to enter Settings.
3) Under Metros I'd Like to Work In– please check if ALL metros
are highlighted (will be in blue). Click anywhere in the box to deselect the markets. Only select markets you want to work in. While clicking the metro names, you MUST hold down the CTRL key to select multiple markets.
4) VERY IMPORTANT: Click the gray box: Update Preferred Metro Areas. Do NOT leave the page before doing this.
While you are logged in to your profile, it is also a great time to update your photos and experience.
Remember you can SEARCH nationwide events 24/7/365!
Maybe you are staying in another city for an extended period of time or maybe just a weekend. If you're interested in working an ALI event, please SEARCH events 2-3 weeks in advance of your trip for the best chance of getting booked. If it's a last minute trip you can always search events and promos by zip code, state, city or keyword from the mobile site or full website.
Happy Promoting!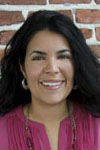 Janice Rodriguez is the President and Agency Director of Adelante Live.  Please follow her on Twitter @jvrodrig1029. You can view her full bio here. When she's not working (when is that?) she enjoys traveling, especially if it's out of the country and she has no access to a computer (or phone).