Follow these tips before you submit your photo for an upcoming promo event.
Although most clients and agencies in the industry seem to prefer talent with  professional photos, we are receiving more and more requests to also see natural looking snapshots of talent. Going the do-it-yourself route? Please follow these guidelines when taking photos for your promotional profile.
Well lit, natural light is best
Go outside! Photos that are taken indoors without a professional flash usually don't look good. Head outside to use the natural light. The colors of your photo will look richer. Also photos that are too bright can be adjusted more easily than making a dark photo lighter.
Be solo- don't crop yourself out of larger photo
Clients want to see a clear photo of just you. They don't want to see a thin cropped photo with a random arm or a part of someone's face in the photo. And they (and your agencies) definitely don't want to see a group photo and then try to figure out who you are. But please- no 'selfies' while you are staring at yourself in the mirror or your holding the camera out in front of your face. Use those photos for Facebook (if you must)- not to submit for promotional opportunities. Ask a friend or family member to take some photos of you when you are by yourself.
Make sure you look like your photo
Keep your photos updated with your agency. If your hair looks completely different, the photo is more than a year old or your look has changed in any other way, you must update your photos. Remember, your look is important because you may have been selected because you are the same demographic as the brand's consumer or otherwise represent the brand you are promoting. Don't put yourself or your agency in the position where you may be released from the promo because you don't look like your photos.
Take close up and full length shots
Always submit a full length or 3/4 quarter length shot as well as a more tightly cropped shoulders up headshot when you apply for promotions. Clients want to see your figure, complexion and smile. Take a variety of photos both close up and further back. Remember what you are applying for! If it is a beauty client, they want to see how you wear your makeup and how your skin looks. A fitness or health client will want to see your athletic build. Make sure to have a variety of current photos that can fit a wide range of promotional opportunities.
No drinking, cigarettes, children, or wedding photos
Your agency cannot send the client a photo of you in a wedding dress, an Olan Mills family portrait or that one when you are dancing on a table at the club holding a champagne bottle. The same goes for photos in Halloween costumes. We need to see what you look like every day. We want you to look your best but we want you to look like you will look at the promotion!
Use a real digital camera, no camera phones
Although camera phones have come along way in the past few years, the pixel count of a hand held digital camera is usually higher than a phone. Also the lens and flash are much better on a camera than a phone. The higher the pixel count and the better the lens and flash all lead to a higher quality photo.
Invest in a professional headshot
Although clients are asking to see natural non professional shots, they do prefer talent with professional photos. We see that the talent who do have a professional headshot, are more likely to be selected by the client. Professional photos just look better. Also when you makes that investment, it shows that you're serious about your promotional career and are willing to take that extra step to get booked. With the digital photography age, there are many affordable options for a nice professional photo. Keep it simple with natural looking hair and make up and nice catalog style type of clothing (think J. Crew). Professional photos will open the door to additional types of work such as auto show or other tradeshows.
Talent often ask me how they can get booked more. My #1 recommendation is to have better photos. You will see your opportunities increase when you have a clear and polished professional looking photo. Use the tips above to take the photos yourself or take a moment to research professional photographers in your area who can be of service.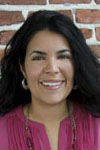 Janice Rodriguez is the President and Agency Director of Adelante Live. Please follow her on Twitter @jvrodrig1029 or on Google+. You can view her full bio here. As a commercial print agent at at Ford Models in Chicago, she selected model's photos for both their comp cards and portfolios. She's also an amateur photographer and just knows what is a good (or not good) photo.