Experiential marketing is part of a multi-billion industry that is responsible for creating an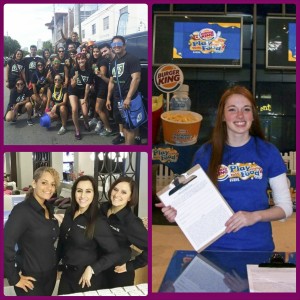 experience where the result is an emotional connection to a person, brand, product or idea. The industry needs dedicated product ambassadors to represent their brand and create those necessary connections with consumers.
Types of Experiential Marketing Activations:
On Premise Beer, Wine and Spirits Promotions
Off Premise Beer, Wine and Spirits Promotions
Sport Event Sponsorship Activations
Fairs and Festival Sponsorship Activations
Street Teams and Guerilla Marketing
Retail Promotions and Demonstrations
Tradeshows and Conferences
VIP and Special Events
Charity Events
Types of Event Staffing Positions:
We provide a variety of talent to represent some of the world's best known brands.
Brand Ambassadors (BA's) are the face of the brand and are responsible for distributing samples/premiums, delivering the brand message, generating leads, and interacting with consumers. BA's have strong customer service and sales skills and truly act as a brand advocate.
Beer, Wine and Spirits Brand Ambassadors
Would you like to represent beer, wine and spirits brands for on and off premise promotions?  We are always looking for outgoing and professional talent that can promote and drive trial and sales of internationally known brands at liquor and grocery stores as well as in the nightlife environment.
Promotion and event managers have hands-on promotions experience in addition to high-level managerial and communication skills. Your job as a manager is to lead and motivate the promo team, act as a project manager, communicate with the client and agency and interact with venue management. You must meet challenges head on and do what it takes to achieve program goals. You are a critical part of the success of the event.
Street team talent are in one word – fearless! You must be energetic, fit and able to approach strangers on the street level to distribute flyers, pass out samples or hold signs for a grand opening, major sale, or to drive traffic to the promotion footprint stationed nearby. As a street team promoter, you make an instant impact consumers walking or driving by the area.
Almost every industry from industrial supplies to pharmaceuticals has multiple tradeshows and conferences throughout the year as a forum for sales and industry related education. Adelante Live, Inc. needs tradeshow booth hostesses, narrators, crowd gatherers, and sales specialists to represent companies and brands in the tradeshow environment. Previous experience in a professional work environment and sales skills will make you an asset to a company looking for a tradeshow representative.
In-store retail demonstrators work inside big box retailers and liquor, convenience or grocery stores to promote major consumer brands at the point of purchase. Demo talent act as the brands' live salespeople and are able to educate consumers while encouraging product purchase. If you are an outgoing self-starter who can work independently, you can be a successful demonstrator.
Mobile Tour Managers and Staff
Mobile tour managers and staff are contracted to go on "tour" to various stops across a specific region or even nationwide promoting the brand. Do you have additional driving certifications such as CDLs? Are you ok with not having the creature comforts of home?  Do you love to travel to new places (but spend so much time working you don't really get to see anything)? Working on a mobile tour is hard work but it definitely gives you a different perspective of the experiential marketing industry and is a great resume builder.
Event production staff works the setup, maintenance and tear down of an event. Do you have special technical skills in lighting or sound? Or you a strong guy who can work as labor help for tent set up or to load and unload premiums from a truck? We are always looking for professional talent who can work independently and as a team to provide these crucial event services.
Performance/Interactive Talent
Are you a dancer, body painter, musician or juggler? If you are or have any other special performance talent, you can be hired by our clients to provide entertainment at their next event or promotion. Interactive talent engages consumers and brings the brand to life through a unique performance.
The beauty and cosmetics industry was responsible for close to $37 billion dollars in sales in 2011. If you are an experienced and professional hairstylist, makeup artist or licensed cosmetologists or esthetician, we want you to represent top skincare, hair care, or cosmetic brand at upcoming events. You may be hired to give consumers mini-makeovers or facials onsite or act as a brand representative by educating consumers on the best beauty products for their particular needs.
In today's international economy, it is critical for brands to develop multicultural promotional programs and to have product representatives who can speak the native language. If you speak another language fluently, you will have access to additional opportunities. We have previously booked talent who fluently speak such languages as Spanish, Portuguese, Italian, French, Russian, Polish, Japanese and Mandarin, just to name a few.
An often overlooked segment for many brands is the LGBT market. The buying power of the LGBT community is said to be well over $790 billion. Brand are always looking for  ambassadors who identify as LGBT or gay friendly and have experience working at LGBT events and nightlife venues.
Event spokesmodels act as the face and voice of your brand. Do you have professional acting, ear prompter or comedy experience or training?  Professional speakers with acting and performance experience that deliver the brand message at live events, promotions or tradeshows are always in high demand.