It's hard to believe that 10 years ago I started Adelante Live. At the time, I had left the modeling industry where I had been working for several years as a commercial print agent and I was working as a field manager and product specialist. I began providing staff for various events and promotions and decided to turn it into a full service business. Ten years later, we're still growing and excited to see what the future brings.
I've seen a lot of changes in the past ten years in the experiential marketing industry. But even today, the same basic concept holds true- a consumer's experience with the brand influences their feelings about the brand and therefore their likelihood of purchase. For us, the most important and influential part of that experience is the brand ambassador. A brand ambassador who educates the consumer on the product and creates excitement for the brand and promotion makes the real difference in that consumer interaction. Brands rely on brand ambassadors to introduce their products and services to consumers in the retail environment, at festivals, in restaurants, in grocery stores, and now even in their own homes. Something as simple as being handed a free sample or coupon by a smiling, happy brand ambassador has turned potential customers into lifelong brand advocates. The face to face interaction between the brand and consumer is still the core of what we do.
So what has changed over the past 10 years?
Use of Technology: I remember when we filled out lead cards and surveys on paper! From handheld devices and tablets, to interactive games to virtual-reality activations at events, technology has been the big game changer for this industry. Experiential marketers embrace it, promote it and are constantly trying to find cool ways interact with their consumers, which means embracing the latest technological trends.
Growth of Smartphones: Cell phones and cell phone plans have come such a long way since 2005. I distinctly remember talent couldn't receive text messages because of the price per text or some people who still didn't have a cell phone. Today 90% of adults have a cell phone and 58% of adults have a smartphone. These smartphones have the best cameras, email capabilities, calendars, and apps so that talent in the field can stay organized and consumers can interact with brands directly from their phone. In order to stay current, mobile version of our web platform so that talent can easily submit their availability, confirm or look for their event details quickly at a glance. Making sure that everything is smartphone compatible and optimized has been a huge change in our industry.
Explosion of Social Media: Back in 2005 the hot social media platform was MySpace. But brands and businesses weren't really using it to connect with their consumers. Today MySpace has totally changed directions into the entertainment arena and the big players are Instagram, Facebook and Twitter. You can also add Pinterest, Tumbler and LinkedIn to this list and you can see the need for brands to connect with their consumers across all of these social media platforms. Experiential marketing has become one of the tools for expanding brand social networks. So many activations today have a specialized hashtag or interaction that allows consumers to post a photo directly to their social media page and like the brand on Facebook. Brand ambassadors are so social media savvy that brands are requesting more often to use the ambassadors' networks to continue the promotion before during and after the event execution. As a company we use social media today to keep in touch with our clients and talent, to recruit in new markets and also to continue to promote and support our clients' events and promotions.
Online Presence: Where would we be today is a business without our web platform the A-live Apex? We invested heavily in the early years in a proprietary online platform that could bring together our talent, clients and our internal scheduling capabilities to one place in order to provide the best service to both our talent and our clients. We've built on the system over the past 10 years to continue to stay current with our clients' needs such as adding reporting capabilities as well as an online order form. In today's fast-paced world, it is necessary to be able to communicate with everyone in the most quick and efficient manner as possible. Our online platform has allowed us to do that as well as has allowed us to grow significantly. I consider it to be one of the most important pieces of our company and we're proud of what we can offer because of the A-live Apex platform.
Online marketing today has significantly expanded and experiential marketing is tied into that in many ways. Typically at promotions or events, there is an online component or a call to action that drives consumers back to a specific promotional website address or contest that happens online. Experiential marketing ties together the online marketing tactics for the brand with the real world experience that events and promotions provide. It's really exciting to see where online marketing is going and the creative ways markers will continue to try to connect these two worlds through experiential.
 A Time to Say Thank You
I could not have done this without the help of multiple people throughout the years. From the introductions that have been made on my behalf which led to clients to talent saying a good word about what we do and helping to promote and represent our company in the best light, we are so thankful. To our team of advisers and vendors that helped us build and expand our business over the years, all of them helped make us what we are today. And for that, I am forever grateful.
To my employees over the years and today, especially to Jon Drago and Kristen Brown, I can't thank them enough for their hard work and support. Kristen has been with us for six years and Jon for three years and that long-term dedication really makes a difference in a small business. We set goals, we made plans to achieve them and we were successful. They offer the best client service and are always looking out for the interests of the business while being creative and offering ways to improve so we continue to stay competitive.
We've been lucky to have so many long-term clients we've worked with since 2005. I believe that's a testament to the quality of service we provide. I believe in long-term relationships that grow and evolve and I'm happy that we've been able to see our clients businesses also grow. We've worked on multiple EX award winning programs and other programs you may not have heard about but made a big impact in their communities. We're proud to have played a part in so many successful marketing programs.
I need to thank the talent that we have worked with over the past 10 years. We are excited that this industry has grown so much and has been able to provide opportunities for these dynamic and personable people to represent the world's greatest brands. Promotions and events need outgoing people with excellent communication skills to go out into the field to meet consumers and be the face of the brands they represent. What our talent does is special and important to us, our clients and the brands. Thank you again.
The most important thing I've learned in the past 10 years is that you can't do it alone. You need a strong support team around you to be a successful small business owner. I have had the guidance and support of so many people over the years and I couldn't be more grateful for their time and attention. Their advice helped me grow both the business and as a person. I'd also like to thank my friends and family who sometimes went to the back burner while I dealt with the business or a huge project. They always understood as they saw my vision for this company. I appreciate their love and support through the years and respect them so much for their encouragement and understanding.
Here's to the next 10 years…
With Thanks,
Janice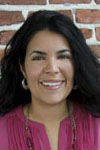 Janice Rodriguez is the President and Agency Director of Adelante Live. Please follow her on Twitter @jvrodrig1029 or on Google+. You can view her full bio here.