Client Service is the Cornerstone
of our Agency​
We understand experiential marketing and take pride in using an arsenal of skills and experience to deliver timely results.
The industry needs dedicated product ambassadors to represent their brand and create those necessary connections with consumers.​
The industry needs dedicated product ambassadors to represent their brand and create those necessary connections with consumers.​
At Adelante Live we believe that a successful experiential marketing campaign delivers
 High ROI through a high level of client service. That's why we emphasize client service throughout our organization – from our experienced account managers to our energetic talent. We provide a superior level of service by arming our clients with event details, talent information, and reporting technology that far surpasses the competition.
Any agency can impress new clients with fancy jargon and promised results. The difference at ALI is that we not only deliver on our commitments, but also turn our new clients into repeat business. You will see that once you are a part of the ALI family our level of service doesn't end after the first event. We honor our ongoing clients by providing the most attentive service levels throughout each and every experiential marketing event activation.
What Drives Us To Do What We Do
Adelante Live, Inc. utilizes customized technology to deliver outstanding experiential marketing services and targeted promotional talent. With absolute accessibility and  transparency, we set the stage for the events and tradeshows that effectively promote our clients' brands and products.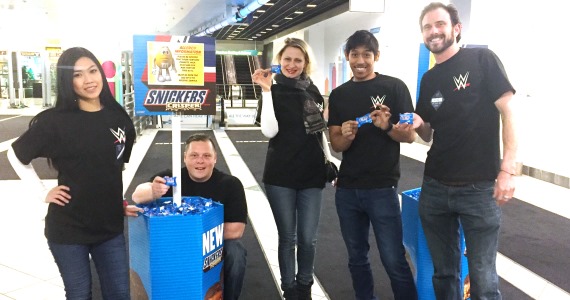 The A-Live Apex® is our proprietary web-based software which we have developed in-house as a customizable event staffing and project management platform.  It was designed specifically with our unique industry in mind. We are able to use technology including mobile applications to streamline processes which make us extremely efficient and able to keep pace with the ever changing demands of the event marketing industry.
This is not just a buzzword – it's a core principle at Adelante Live. We believe in being completely transparent with our talent and clients. Whether it is giving our talent the ability to locate event and payment information 24/7 or allowing our clients complete access to talent profiles so they can select their brand ambassadors, we understand and appreciate the need for open and honest communication in all facets of our business.
From casting to training through execution, our #1 goal is to match the most qualified and effective talent to the promotion or event. We ensure that the talent complements the consumer demographic so that they become a true representative and advocate for the brand. A talent's communication style, appearance and experience are all factors when determining if they are the best selection for a particular brand and event. After hiring, we work closely with our clients to facilitate training so our talent is prepared prior to arriving on site.